Dear Internet Friends,
Speleobooks travels near and far looking for new (and old) books and gifts for our customers. In recent years we have attended conferences in countries including England, Slovenia, Australia, Mexico and within the U.S. We continue to improve our website with updates every 4-6 weeks. We have a secure order form for internet shoppers. We can generally answer email in 24-48 hours unless we are on the road. Our orders are often shipped within 24 hours as well.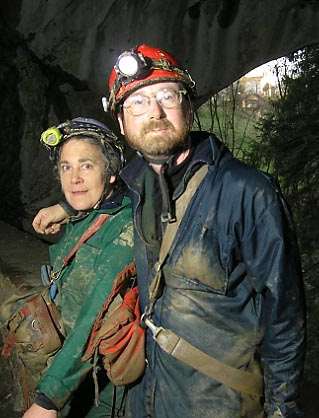 Speleobooks is run by Emily Davis and Mike Warner, shown here in a muddy cave beneath Predjama Castle in Slovenia. When Speleobooks is on the road, there may be occasional delays in shipment, however we stay in frequent touch via email even when we are travelling. In addition, we stay close to home through the holiday season in order to make fast service a priority for gift packages.
For those of you who don't know about Speleobooks, we started as a part time used bookstore for cavers. The idea was to earn some extra money so we could go caving more. Over the past 30 years we have expanded to a full time full service book and gift shop for cavers, bat scientists and bat enthusiasts. We primarily sell mail order and at conventions. We have customers all over the world. Our web page has been and will continue to be a great way to keep even closer contact with customers.

There are lots of exciting new items on our web page in in our catalog.
Items may returned for any reason for full refund or credit. Please give the reason for return, package well and insure it. We are glad to hear from our customers. You may phone in orders before 9 pm eastern time. If we are not at home please leave a message. You may also Fax or Email your orders anytime.
We update our "NEW" section every few weeks so that as new books are published or new gift items discovered we can show them to you as quickly as possible.

---
---